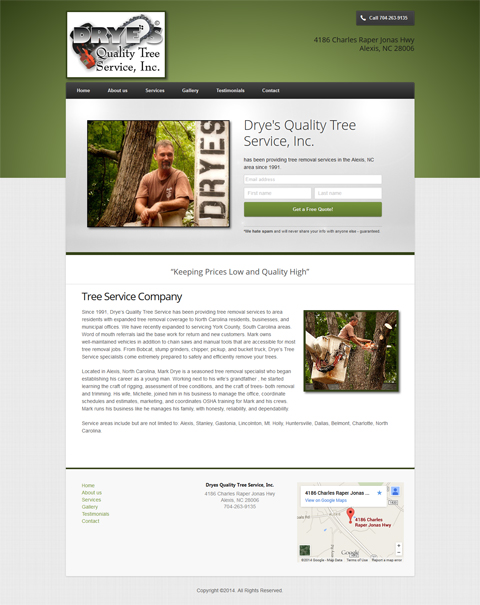 Tree Service Web Design
Well it certainly has been some time since we updated our blog. Things have been so busy here at CCD that our blog has been sorely neglected.
For this entry we would like to highlight one of our new client's — Drye's Tree Service (DTS) located in Alexis, NC. Mark Drye is the owner/operate and came to us needing a fresh new website. We provided DTS with a new look and the site was designed in WordPress. The DTS site features some really nice HTML5 animations along with a custom photo gallery. Another feature DTS wanted was a way for their customers to brag about the great work they received by DTS. We accomplished this by adding a fully automated testimonials page where past customers can express their thanks to DTS for the professional tree service and affordable pricing they received.
If you would like to see the full tree service WordPress design for DTS please visit their site at Dryes Tree Service. If you would like to inquire about how we can help you with a new website or how we can update your current site please contact one of our web design specialists by submitting our contact form. Get started now!.